21 July 2018, Bengaluru:  The second and concluding day of IIM Bengaluru Alumni Association's Leadership Conclave turned out to be interesting, thought-provoking and certainly extremely entertaining. It was no surprise though, considering the crackling inaugural session brought together two iconic entities – spiritual leader Sadhguru and Bollywood heartthrob, Ranveer Singh on the dias, giving their perspective on "Sensing the Future through many lenses".
Ranveer Singh's "full of heart" entry on to the stage set the pace for the absolutely engaging dialogue which witnessed fun and serious tones in equal measure. Ranveer Singh opened the session asking the guru if he danced, getting an answer in the affirmative from Sadhguru. Further prodding resulted in the Guru sharing one of the session's most meaningful quotes – "Dance is not because of the music played, it simply is because of the rhythm I have found in life."
Ranveer's take on the topic in his words was, "I find dance to be a form of active meditation".
"Every technology is an extension of our existing faculties. The problem is compulsive usage and not in the new technology. Gadgets are becoming a drug. When people complain about their dependence on technology, they are not complaining about technology, they are complaining about their own compulsiveness."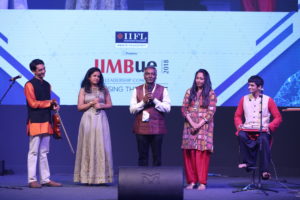 Given that we have the largest number of youth population globally, it is important to channelize them in the right direction. Recognizing his co-panelist's tremendous influence on today's younger generation, Sadhguru invited Ranveer to get involved in some of the youth empowerment efforts planned at his foundation. The extremely inspiring and entertaining session witnessed a fitting finale with Ranveer and Sadhguru dancing together to mystics's chant 'Allez'.
Following this animated session, the focus shifted to a more topical discussion on economy. 'The Indian narrative – From Fragile 5 to a five trillion dollar economy' session saw corporate captain – Debjani Ghosh – President NASSCOM  and eminent economist and PMEAC member – Surjit Bhalla presented a very insightful and well-rounded discussion on the Indian economic growth story and its influencers. Citing Ms. Ghosh from the session "Globalization, Digitization, Inclusion and mindset are major factors that are and shall continue to influence the economy's buoyant progress". She also added "The shift in focus from STEM to STEAM meant that the world of arts, science & Tech is coming together to create more job opportunities."
Dr. Bhalla highlighted that the next set of reforms in future should be in Agriculture. He also spoke about quality and standardization of employment related data collection, which is critical to ensure that the data available for public consumption is reliable and current, considering developments and trends globally; and that the government has put in place measures to ensure this from the month of October 2017. Both the panelists strongly advocated the importance of robust participation of women workforce in the country for a thriving economy. Citing an insight from his upcoming book, Dr. Bhalla said that in a detailed survey conducted to find out about board positions held by women country-wise, it was very heartening to note that India has been the Number One country to offer such opportunities to its women leadership talent. The session left the audience with a sense of promise of the days to come as it was only a matter of time before India achieves its 5-trillion Dollar economy Tag.
Karan Bhagat – Founder & Managing Director of IIFL Wealth Management and an IIMB Alumni himself, took the audience through his journey as an "accidental entrepreneur", sharing key insights from his experiences. "We must believe in the real story. Else, perception will soon take over and become the reality." He quoted this in the context of perception vs reality with regard to a start-up's growth story in India.
Taking a break from the various sessions, the audience was treated to an ensemble performance post lunch: The ThayirSadam Project by SubraMania. The artistes included brother-sister duo – Ambi and Bindu Subramaniam on Violin and Vocals; Akshay Padmanabhan on the mridangam and Kunakool while Mahesh Raghavan provided a very interesting instrumental cover through his IPAD. The highlight of the performance was a quick Konakool lesson for the audience after which everyone joined in enthusiastically to perform the last song together.
Session 4 saw Nivruti Rai – Country Head Intel India and Vice President – Data Center Groupshare her thoughts on 'Breakthrough Innovations – What will catapult India into a global product innovation Hub?' Quoting Ms. Rai from the session, "India has the opportunity to lead the Digitization revolution as I believe the ecosystem is very vibrant and strong enough to power our digital revolution ambition. Taking risks is required to change the game. Most importantly, Industry, government, academia and entrepreneurial collaboration is key for product innovation success".
The day ended with a panel discussion by an eclectic mix of members from tech entrepreneurship and academia background on 'Breakthrough innovations – AI, Machine learning and analytics'. Prashanth Ranganathan – Founder CEO, PaySensehighlighted the role RBI is playing as a forward-thinking regulator in inviting fintech entrepreneurs to understand best practices as well as current tech innovations that these companies use to evaluate what works, and incorporating it while working on regulatory policies.  Prof Praveen Kopalle – Professor of Marketing at Tuck School of Business, Dartmouthand an IIMB Alumnisaid "The focus of innovation will be about better data revolution rather than big data."
Speaking about the Leadership Conclave and the manner in which it has evolved since its inception, Chief Patron of IIMBue – Kiran Mazumdar-Shaw, Chairperson and Managing Director, Biocon Limitedsaid, "IIMBue was a start-up in 2015. Over the last three years, both in terms of the participation of the alumni, and quality of discussion, we have been able to sustain the momentum in a gratifying manner. Going forward, we truly think we have built a strong foundation for IIMBue to become the largest alumni-driven conclave in the country."
As a round-up of the Conclave, Nirmala Sankaran – Co-convenor, IIMBueand C0-Founder – HeyMath!said, "The purpose of the 2018 Leadership Conclave was to explore the challenges of the leader of the 21stCentury, be it in Technology, Economy or Society in general. With the rapidly evolving global economy, many traditional concepts are increasingly proving to be irrelevant, giving way to the rise of the 'gig economy'. These changes are in turn forcing leaders to change their approach. The demand is for more flexible, nimble, knowledge based and location agnostic solutions. Another indispensable element emerging is the rise of women workforce and leadership. Women being naturally collaborative, transparent and persuasive have consistently displayed valuable management traits which are more relevant than ever before. On the whole, the Conclave has attempted to deliberate upon and capture these aspects, and ignite fresh perspectives in the minds of our Alumni, who we are confident will take this forward and implement in their respective lives.
Going forward, IIMBue is set to play a larger role, not just in promoting dialogue and industry networking efforts but also serve as an incubator for innovation in thought leadership, carrying forward IIMB's motto, "Let our study be enlightened".