Monday, November 6, 2023 5:50PM IST (12:20PM GMT
Hyderabad, Telangana, India:
American Brew Crafts Pvt Ltd (ABCL), a modern-day independent brewing company making the highest quality products with the best ingredients, unveiled the all-new BlockBuster Ultra Lager, a delightful pilsner-style creation in a light and crisp flavor. The new variant has low calorie and carbohydrate content, making it a popular choice for a lighter beer. It offers a captivating blend of rich malty notes, a subtle touch of bitterness, and a harmoniously balanced citrusy and floral aroma, promising a unique beer experience. BlockBuster Ultra Lager is a light and energizing variant that is a perfect companion for parties, events, or even soulful nights. So whether it is a social gathering, a celebration, or an everyday indulgence, BlockBuster Ultra Lager is set to take you on an all-new different experience.
BlockBuster Ultra Lager comes in a radiant golden elixir, crowned with a creamy white head, meticulously crafted for beer connoisseurs. It is available as tins and bottles, catering to every beer lover's choice.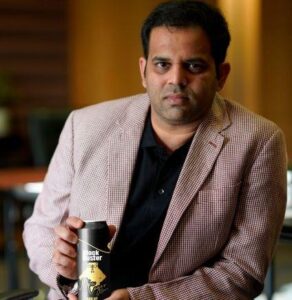 Speaking on the occasion,  Nagendra Tayi, Chief Executive Officer, of American Brew Crafts Pvt Ltd. said, "BlockBuster Ultra Lager represents the culmination of our dedication to crafting exceptional beers. We believe that every sip of BlockBuster Ultra Lager is an invitation to explore the extraordinary in the world of beer, and we are thrilled to bring this unique experience to beer enthusiasts. We are truly a 'Made in India' brand. We have a team of expert brewers to ensure we deliver the best brews consistently. At American Brew Crafts, we are proud to be at the forefront of the craft beer movement, and our commitment to quality and innovation drives us to bring new variants for beer lovers. You can have fun with Blockbuster Ultra Lager beer, pairing it with food, and spending time with friends, but remember to drink responsibly and be aware of your limits to ensure a safe and enjoyable experience."
American Brew Crafts makes its beer at two state-of-the-art breweries equipped with the latest German machinery. They prefer to make the beer in small batches giving enough attention and focus to the recipe of each beer. This process also allows them to control the quality of the drink, without compromising on the taste. BlockBuster beer is a result of rigorous research on the supreme quality beer brewed with carefully selected finest malts and hops to ensure the perfect flavor.
The brand identity of BlockBuster is a reflection of ABCL idolizing the common man and his daily aspirations to enjoy, chill, and lead a happy life. The 'bear' on the bottle represents a simple guy who is comfortable & contended in his space and is taking on life as it comes. Just chilling, relaxing, and enjoying the moment.