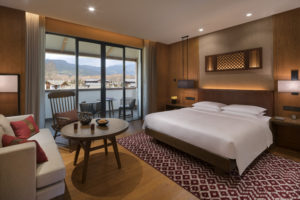 CHICAGO–(BUSINESS WIRE)–Hyatt and the Jinmao Group proudly unveiled Jinmao Hotel Lijiang today, which rebranded from a Grand Hyatt hotel to Jinmao Hotel Lijiang in The Unbound Collection by Hyatt. This marks the first hotel in China for The Unbound Collection by Hyatt. The 305-room Jinmao Hotel Lijiang combines traditional architecture with contemporary design, offering guests an authentic taste of the traditional Naxi culture, breathtaking natural views, and a story-worthy experience. Together, Hyatt and the Jinmao group also announced the renewal of the management agreement for the iconic Grand Hyatt Shanghai, located in the heart of the Lujiazui financial and business center in Shanghai, eastern China.
"We are humbled by the trust and confidence shown by the Jinmao Group and are excited for the opportunity to bring the next level of hospitality to our Chinese guests," said Asia Pacific Group President David Udell, Hyatt Hotels Corporation. "The renewed collaboration demonstrates the shared vision of Hyatt and Jinmao in bringing care and new, one-of-a-kind experiences to Chinese guests. It further demonstrates Hyatt's commitment to innovative collaboration with our owners to positively impact our guests' experiences."
Aimed at fulfilling a sense of discovery through novel, story-worthy experiences, Jinmao Hotel Lijiang joins recent openings in the portfolio including Hotel Martinez in Cannes and The Eliza Jane in New Orleans.
"Working hand-in-hand with Hyatt for the last 20 years has allowed us to create a hotel that raises the bar for the industry," said Tang Yong, executive director and CEO of Jinmao (China) Hotel Investments and Management Limited. "Jinmao received strong support from Hyatt while creating Jinmao Hotel Lijiang. The hotel is a new beginning for both of us, but with Hyatt's global expertise and Jinmao's deep understanding of the local market, we believe our relationship will continue to grow and strengthen."
The collaboration between Hyatt and Jinmao began in 1999 with the opening of the Grand Hyatt hotel in Shanghai at the iconic Jin Mao Tower in Pudong. A significant milestone in the history of China's hospitality industry, Grand Hyatt Shanghai was the tallest hotel in the world when it opened and has won numerous awards including the 'Readers' Choice Awards – Best Hotel in Shanghai' by DestinAsian for eight consecutive years, from 2005-2012. Growing alongside China's dynamic development throughout the past 20 years, Grand Hyatt Shanghai has been at the forefront of hospitality by bringing iconic experiences and vibrant service to guests, a testament to the two companies' growth and contributions to the flourishing hospitality industry in China.
The term "Hyatt" is used in this release for convenience to refer to Hyatt Hotels Corporation and/or one or more of its affiliates.