One of the most popular festivals celebrated worldwide
Bengaluru, Friday, 23 August, 2019: Janmashtami, commemorating the glory of Lord Sri Krishna's appearance was celebrated at ISKCON Bangalore temple with a much fanfare and the participation of more than one lakh devotees on Friday and Saturday. The temple decked up by various flowers was close in bringing Krishna's Goloka to earth. On the occasion, the Deities were adorned with eye-appealing ornaments and gold weaved clothes. The devotees filled their hearts with grand celebrations and bellies with delicious prasadam.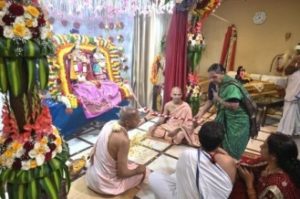 On both the days, the procession-Deities of Sri Radha Krishna Chandra received elaborate bathing on a stage decorated with flowers and magnificent artwork. Each of such nine Abhishekams included Panchamrutha, Panchagavya, Medicinal herbs and fresh juices. The midnight Abhishekam on Saturday will be the grandest of all with pouring of waters from 108 Indian holy rivers, 35 varieties of flower-showering and 12 kinds of Aratis. All the Abhishekams would be accompanied by sweet musical chants that complimented the whole event.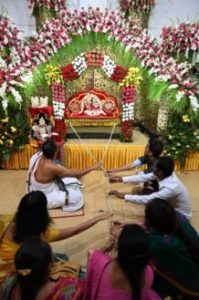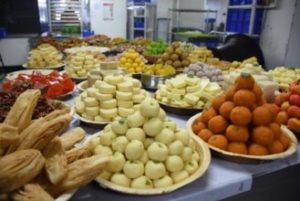 Visiting devotees had a chance to sway the small Deities of Sri Radha Krishna in silver Jhulan (swing). The jewelleries shone as the Deities were swung with love and devotion. Simultaneously, Krishna's favourite pets – cows were worshipped in the decorated temple Gaushala (cowshed).
"All the rituals and practices must be based on scriptural authority. Today is the appearance day of the unborn, Sri Krishna who spoke Bhagavad Gita – the greatest authority to disclose the secrets of life. Therefore, an exhibition of Bhagavad Gita As It Is in 52 global languages is set up. All translated from the original work by Srila Prabhupada" said Sri Naveena Neerada Dasa, Head – Strategic communications and projects, ISKCON and Akshaya Patra.
The abundant prasadam was distributed at Hare Krishna Hill. One lakh laddus, 25 tonnes sweet Pongal and 15,000 various sweets such as Mysore pak, burfies, etc were prepared as Krishna prasadam for devotees. The Deities were offered 108 specially cooked food items with international flavours which were later displayed in front of the altar.
To ensure the hassle-free darshan, safety and security, 100 trained security staffs were engaged. They also ensured the smooth darshan for senior citizens and physically challenged people despite huge crowd. Over 600 volunteers and hundreds of temple-devotees created a friendly environment for all. Each and every devotees visited the temple were delighted with the hospitality and arrangements made by the management.