15 November 2023 (New Delhi/Mumbai):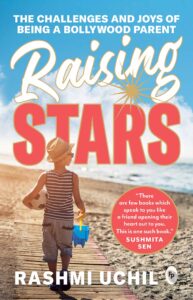 The debut book by Rashmi Uchil, a seasoned journalist and content development expert, named Raising Stars: The Challenges and Joys of Being a Bollywood Parent has recently been released. Published by Fingerprint Publishing, the book is a fascinating exploration of the world of parenthood as experienced by some of the greatest Bollywood stars. Uchil delves deep into these stars' personal stories and cherished parenting practices, inviting readers to step inside their homes and hearts.
From the joys of raising their children to the unique challenges they face in the spotlight, the book unveils it all. Whether readers are parents seeking inspiration, fans of Bollywood, or simply curious about the universal bonds of family, Raising Stars is an enriching and enlightening read that will leave them with a deeper appreciation for the realities and rewards of parenthood in the limelight.
The book features exclusive interviews with some of Bollywood's most popular and respected stars, such as Mahima Chaudhry, Nandita Das, Archana Puran Singh, Diana Hayden, Bhagyashree Dasani, Amrita Raichand, Chunky Panday, Jackie Shroff, Dr. Aditi Govitrikar, Maria Goretti, Zareen Khan, Rohit Roy, Nadira Babbar, Anuradha Patel, Javed Akhtar, Shabana Azmi, Madhu Shah, Boman Irani, and Salome Roy Kapur, amongst others.
Some of the interesting chapters are wherein Javed Akhtar talks about 'secular parenting practices that are not guided by religious or spiritual beliefs', Chunky Panday opens up about raising daughters, Jackie Shroff on his prioritization of family and children while doing numerous work shifts, Salome Roy Kapur on raising feminist sons, former Miss World Yukta Mookhey's interesting take on Zen Parenting, and so on.
Sharing her joy in putting this book together, author Rashmi Uchil said, "I spent almost 8 years researching and interviewing various celebrities about their experiences as parents to write this book. It is a valuable guide for parents, guardians, and caregivers who want to learn from the key chapters that cover different aspects of a child's development and well-being. It is must-read."
 Commenting on the release of the book, Shantanu Duttagupta – Executive Publisher said, "Raising Stars is a peek into the homes and hearts of Bollywood's finest. It reveals a rich tapestry of universal family bonds and nuanced realities of parenting in the limelight."