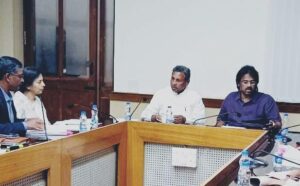 Bangalore, September 30 (Karnataka News) :
K. H. Muniyappa said that a model school will be constructed at Vishwanathpura in Devanahalli on the occasion of Mahatma Gandhi's birthday. Schools in rural areas should in no way be inferior to schools in urban areas and should develop like children in urban schools. As per section 135 of the CSR Companies Act, 2013 ("Act") companies are required to contribute a certain amount towards CSR activities. Under this grant, additional rooms, learning materials, laboratories, drinking water system, digital libraries, construction of school compound, provision of nutritious food items to children, provision of sports equipment, appointment of well-trained teachers are included in the government schools, he said.
Minister Muniyappa has been preparing a program for the construction of model schools under the social responsibility fund of reputed companies for about 1 month and has already held a meeting led by the heads of more than 15 reputed companies and district commissioners and responded appropriately.
Under the leadership of some leading companies, they have started to carry out the works of schools in Bangalore rural district and have prepared to build model schools as per Gandhiji's dream.
All gram panchayats of Devanahalli taluk have started construction of model schools, School Education and Literacy Minister Madhu Bangarappa has also indicated his support for this program and he will also participate in this inaugural program.
Food Minister KH Muniyappa has taken this resolution for the benefit of the poor, farmers and the development of children at the rural level. In rural areas more children of hard working people are studying in government schools which is all kinds of convenient for them They should be brought up in the environment and they should be prepared equally with the children of private schools in urban areas and if the message of Nammura School as a model school is continued throughout the state, rural level schools will grow along with prestigious private schools and the farmer will be able to be financially cooperative. It is indeed commendable that the Minister wanted this resolution, and the Hon'ble Minister is keen to implement it on the occasion of Gandhiji's birthday.
It was the dream of then former President Sarvepalli Radhakrishnan that educationists who have given great light to the lives of innumerable people by lighting the axis lamp in their chests, to provide better learning to children in model schools is the dream of the then former President Sarvepalli Radhakrishnan.
As Sarvapalli Radhakrishnan said, "The ultimate result of education should be to form an independent and creative man. Only then can he fight against the bitter circumstances and the adversities of nature. Teachers are not the only ones who teach education in schools. Teachers are the ones who identify the right and wrong of children. Our school should be a model school, our village should be a model village." That is the hope of the minister.
Along with reputed companies, they have decided to build schools for the all-round development of Devanahalli. On the auspicious occasion of Mahatma Gandhi's birthday, a project called Model School was launched under the leadership of the School Education Minister, Food and Civil Supplies and Consumer Affairs Minister K. H Muniyappa will inaugurate. As Gandhiji said, what we do for ourselves ends, what we do for others lasts forever