Bangalore, 20th November, 2023: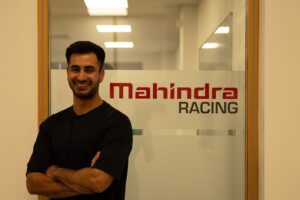 The 23-year-old from Bangalore joins the Indian team on the Formula E grid after an impressive rise through the FIA single seater pathway over the past seven years.
Starting in Italian F4 back in 2016, Maini has subsequently enjoyed success in British Formula 3, the Formula Renault Eurocup, FIA Formula 3 and, at present, competes in the FIA Formula 2 Championship, scoring his first podium in Melbourne, Australia earlier this year.
Now, as Maini explores new opportunities in his fledgling career at the top table of international motorsport, the protégé of two-time Formula 1 champion Mika Hakkinen has chosen to forge a new partnership with Mahindra Racing, as the team continues an exciting new chapter in its own history.
Maini will work closely with the team's two race drivers, Edoardo Mortara and Nyck de Vries, and closely in conjunction with fellow Reserve Driver, Jordan King. His role will involve simulator sessions, attendance at selected E-Prix events to support the team, and possible opportunities to test the team's M10Electro race car in future.
News of Maini's signing follows on closely from the announcement that the FIA's all-electric series will return to the streets of Hyderabad, India for Season 10, after a successful first E-Prix for the championship in the state of Telangana.
Commenting on the news, Kush Maini commented: "It's a huge honour to be joining Mahindra Racing. Being an Indian driver, and the team being Indian, it feels in many ways like coming home.
 "A lot of my work will be concentrated on the simulator, and hopefully getting in the car for the Rookie Test. I'm just going to try and learn as much as I can, it's a different style of racing.
 "I'll be doing as much work as possible on the sim with the engineers to try and be helpful for both Edoardo and Nyck, and to try and help push the team forward on-track.
 "Mahindra is a huge manufacturer, so for me, it's a massive deal to be signing with them. Being an Indian brand, it's the cherry on top of the cake. I'm super excited to get started."
 Mahindra Racing's CEO Frederic Bertrand added: "We are excited to welcome Kush to Mahindra Racing as a Reserve Driver. He has a great record that speaks for itself in the junior formulae and is an exciting talent to add to our driver lineup.
"We are a very future-focussed team, so the opportunity to support new and emerging talent, such as Kush, is one we are naturally keen to explore.
We've been watching him in FIA Formula 2 this season, and believe he has all the key skills and attributes to help Mahindra Racing push on for greater success in the future.
 "His synergy with Edoardo, Nyck and Jordan will play an important role in the team's continued push for better performance on-track, and off-track he is a superb ambassador for India within motorsport."