14th September 2023, Bengaluru: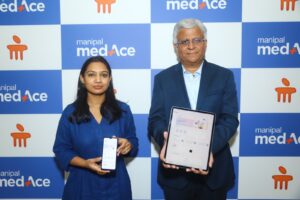 Manipal Global Education Services, a leading international provider of quality learning solutions in higher education, today launched Manipal MedAce, a first-of-its-kind super app for Medical Learning and Medical PG Prep, in a new mobile and cloud first format.
Manipal MedAce is a comprehensive and outcome driven resource built on academic and learner research. It enables MBBS students to supplement campus learning by providing access to a Comprehensive and Curated learning resource on a single platform through its Learn Product. It provides a Personalised Experience for PG aspirants that is Efficient, Clutter free and Stress Free, through its Prep Product thereby making the lives of medical students easier.
Manipal MedAce was unveiled in the presence of Mr. Ravi Panchanadan, Managing Director & CEO – Manipal Global Education Services (MaGE) and Ms. Preethi Frederick, Head – Product Development, Manipal MedAce.
Dr. Ranjan Pai, Chairman of Manipal Education and Medical Group (MEMG), said. "Over the years, the Manipal Group has pioneered several pioneering initiatives that have paved the way for progress around the world – empowering people and transforming lives. With Manipal MedAce, we are combining our passion for innovation with a desire to positively impact Medical Education, by helping learners be even better doctors. I have a first-hand understanding of the challenges an MBBS student is faced with and Manipal MedAce is our effort to create a learning catalyst for students."
 Speaking at the launch, Mr. Ravi Panchanadan, Managing Director & CEO – Manipal Global Education Services (MaGE), commented, Manipal MedAce brings together our rich heritage and expertise in medical education and a deep well researched understanding of the pulse of learners. With MedAce we've combined our 60-year expertise in delivering top tier medical content using latest digital technology in a user-friendly manner, which will engage with learners in a format/ on form factors they are comfortable with in their daily lives. Through Manipal MedAce, we endeavor to enrich lives of medical students by making learning easy and interesting, setting them up for success at every stage of the journey."
 Ms. Preethi Frederick, Head – Product Development and Marketing, Manipal MedAce said, "Manipal MedAce's journey began with curiosity, research, and a relentless drive to make a difference. The app's very foundation was rooted in understanding the needs of learners, It was all about creating something with learners. We understand the pressure that comes with pursuing an MBBS degree and preparing for a medical competitive exam. The constant juggling with endless exams, grappling with complex subjects, demands unwavering dedication. MedAce is designed and built to be a constant companion, a buddy and guide from the moment the leaner  steps into medical school till the day they take the NEET-PG exam. We believe that learners will quickly figure out that Manipal MedAce is #inthistogether with them "
Manipal MedAce is available for download on Android and iOS devices.