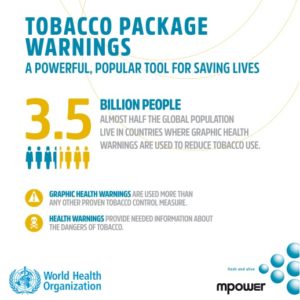 31 May 2018:Tobacco use has declined markedly since 2000, according to a new WHO report, but the reduction is insufficient to meet globally agreed targets aimed at protecting people from death and suffering from cardiovascular and other non-communicable diseases (NCDs).
For World No Tobacco Day 2018, WHO has joined with the World Heart Federation to highlight the link between tobacco and cardiovascular diseases (CVD) – the world's leading causes of death, responsible for 44% of all NCD deaths, or 17.9 million deaths annually.
Tobacco use and second-hand smoke exposure are major causes of cardiovascular diseases, including heart attacks and stroke, contributing to approximately 3 million deaths per year. But evidence reveals a serious lack of knowledge of the multiple health risks associated with tobacco.
"Most people know that using tobacco causes cancer and lung disease, but many people aren't aware that tobacco also causes heart disease and stroke – the world's leading killers," said Dr Tedros Adhanom Ghebreyesus, WHO Director-General. "This World No Tobacco Day, WHO is drawing attention to the fact that tobacco doesn't just cause cancer, it quite literally breaks hearts."
While many people are aware tobacco use increases the risk of cancer, there are alarming gaps in knowledge of the cardiovascular risks of tobacco use. In many countries, this low awareness is substantial; for example in China, over 60% of the population is unaware smoking can cause heart attacks, according to the Global Adult Tobacco Survey. In India and Indonesia, more than half of adults do not know smoking can cause stroke.
"Governments have the power in their hands to protect their citizens from suffering needlessly from heart disease," says Dr Douglas Bettcher, WHO Director for the Prevention of NCDs. "Measures that reduce the risks to heart health posed by tobacco include making all indoor public and workplaces completely smoke-free and promoting use of tobacco package warnings that demonstrate the health risks of tobacco."
Smt. Anupriya Patel flags off an auto-rickshaw rally to encourage abstinence from tobacco consumption
31 MAY 2018 5:05PM by PIB Delhi:Smt.Anupriya Patel, Minister of State for Health and Family Welfare flagged off and auto-rickshaw rallyto encourage abstinence from tobacco consumption to commemorate this year's World No Tobacco Day, here today. As part of this AUTO RALLY, more than 100 auto drivers will be motivated to engage with the commuters to drive the campaign for at least a minimum period of one month in different locations covering entire Delhi. For mass awareness, the messages would be carried on the hood of the autos.Speaking at the event, SmtAnupriyaPatel said that this year's World No Tobacco Day theme is "Tobacco and Heart Disease", which focuses on the impact that tobacco consumption has on the cardiovascular system. "Here we must not forget that it is not limited to cardiovascular diseases, but tobacco use is also attributable to cancer, Chronic Obstructive Pulmonary Diseases, Tuberculosis, Diabetes and other non –communicable diseases," she said. Smt.Anupriya Patel further said that World No Tobacco Day is a key advocacy tool for creating mass awareness on dangers of tobacco use among general public.  "We must ensure additional efforts are being made to provide support to enforcement of the tobacco control laws in the country," she added.Also present at the event were ShriSanjeeva Kumar, Addl. Secretary, Smt.Promila Gupta, DGHS, and other senior officers of the Ministry representatives of the WHO Country Office and civil society organizations
Narayana Health urges public to quit smoking this World No Tobacco Day
~Launches a series of initiatives to observe the occasion~
 Bengaluru, 31 May 2018: In an effort to create awareness about the health risks associated with tobacco use, Narayana Health, the leading healthcare chain has launched an integrated campaign in the city. Titled "#BeAQuitter", the initiative will witness Narayana Health organizing free Smokerlyser test across the city. The test will be conducted using a special device called Smokerlyser (breath analyser). The equipment will help people to understand the carbon monoxide level in his / her body. It will analyze the health risk the person posses owing to his/her smoking habit as well. Apart from the on-ground activity, the campaign will also see Narayana Health hosting a QnA session on Facebook. The Facebook Live will be addressed by a pulmonologist and a psychiatrist/psychologist, providing a platform for people to clear their doubts regarding smoking and its effects.  The forum will also guide the public on ways to quit smoking.
Further, during the occasion Narayana Medical Centre, a unit of Narayana Health will be launching its dedicated Smoking Cessation Clinic at the hospital. The exclusive clinic will start its functioning from May 31st, 2018. The clinic will offer screening which comprises of complete blood count test, chest X-Ray, pulmonary function test and Consultation with pulmonologist and counseling by psychiatrist.
Elaborating about the initiatives, Dr Murali Mohan B V, Senior Consultant – Pulmonology , Narayana Health, said, "While tobacco consumption has declined worldwide, in India the situation is still far from desirable. Lack of awareness, and lack of individual will are key reasons for the still rampant tobacco consumption. Through this campaign we are planning to address not only the community at large, but individual smokers as well.  In fact, the Smokerlyser alerts the individual about the impact of smoking on their body. We hope it provides a reality check and hence encourages them to quit."
Mr. Balachandar NV:Ashok Leyland
"As one of the largest Commercial Vehicle manufacturers in the country, Ashok Leyland believes that it is our duty to ensure the safety and health of our truck drivers. With nine well-established, state-of-the-art Driver Training Institutes located across India (plus two under construction), the Company has taken on the responsibility of not only imparting training in safe driving techniques to drivers but also promoting a holistic approach to health, stress control, and overall well-being. With over 10 lac drivers trained over the years, we have found out that prevalence of Tobacco consumption is the highest among long haul truck drivers. We have sessions and consultations with drivers highlighting the negative effects of tobacco and how it not only affects the health of the individual but also the dependent family. We help them with techniques on how to not depend on tobacco and to be mentally strong, focusing on health and staying away from any addiction."
NEW DATA SHOW MORE THAN HALF OF SMOKERS IN INDIA HAVE TRIED TO QUIT BUT HAVE BEEN UNSUCCESSFUL
Foundation for a Smoke-Free World pledges innovative research aimed at giving world's 1 billion smokers additional help to quit or switch to less harmful products
May 31 2018– Despite nearly seven of 10 smokers in India being aware that smoking is dangerous, 53 percent have been unsuccessful in their attempts to quit, new data released by Foundation for a Smoke-Free World showed. This makes it clear that new cessation and harm-reduction options are needed to help smokers live longer and healthier lives."The data show what we have anecdotally known for decades– that many smokers have the desire to quit, but not the means to match it," said Derek Yach, President of Foundation for a Smoke-Free World, who was deeply involved with the development of the world's treaty on tobacco control, Framework Convention on Tobacco Control (FCTC), and served as the Executive Director for non-communicable diseases and mental health at the World Health Organization.
More findings in India include:
68% of smokers report that they are "well informed" about the impact of smoking on one's health.
51% of smokers said they are planning to quit.
41% of smokers who tried to quit said they would need assistance to do so.
25% of smokers are using e-cigarette or vaping device to cut down smoking
The data which is a part of a global survey of 17,000 participants in 13 countries suggest enormous challenges in creating a one-size fits all approach to smoking cessation across the globe. It is clear: Smokers are sacrificing their physical and economic well-being to smoke, even though many of them have the desire to quit.Foundation for a Smoke-Free World will fund innovative research to discover new cessation and harm-reduction tools that will save additional lives."In the two years since the Royal College of Physicians found that 'harm reduction has huge potential to prevent death and disability from tobacco use,' we continue to largely ignore the fact that many smokers do not want to quit and obtain pleasure from smoking. Harm-reduction advancements are literally a matter of life or death for these people," said Dr Yach.More than 104 million people in India alone continue to imperil their health by using combusted tobacco every day. Bidis, which are a type of low-cost and hand-rolled cigarettes that are locally made in India, account for a significant proportion of tobacco use in India. Their popularity is attributed to lower tax excise than conventional cigarettes or to tax evasion altogether. This suggests that control measures applied in India may have to be distinct from those applied to other countries in order to accelerate the rate of smoking cessation and harm reduction in India."As evidenced by the situation in India and around the globe, there is still a tremendous amount of work to do," said Dr Yach. The Foundation is taking a new approach to help smokers quit or reduce their risks. It is listening to the smokers and looking, through their eyes, at the challenges they face as they try to quit. It is committed to funding a research agenda that prioritizes new methods of harm reduction and cessation to fulfill the FCTC, while importantly responding to the behavioral and health needs of smokers who struggle to quit.
Manipal Hospitals Bengaluru launches Campaign to Mark  "World No Tobacco Day 2018"
"Let's Together, Beat Tobacco" Campaign to fight the tobacco epidemic and raise awareness on solutions to reduce tobacco-related death and disease
Now present a screening package to a smoker in your family to help them quick evaluation of heart health condition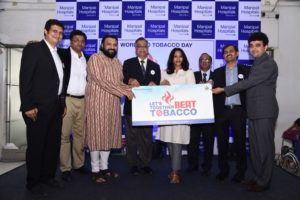 PHOTO CAPTION: Manipal Hospitals unveils , Let's Together, Beat Tobacco to fight the tobacco epidemin and raise awareness by Ms. Vanihtha Ashok, fitness expert along with Dr. Sudarshan Ballal, Chairman Manipal Hospitals along with Dr. Ranjan Shetty, Interventional Cardiologist, Dr.Somashekhar. S.P, Chairman & HOD Surgical Oncology, Dr. Satyanarayana Mysore, HOD, Pulmonology & Sleep Medicine and Dr. Anoop Amarnath, HOD Geriatrics.
Bangalore, May 31, 2018: As nations world over gear up to celebrate World No Tobacco Day, with WHO's focus this year being on the impact of tobacco on cardiovascular health, India  is fighting its own tobacco-related death and disease battle. Manipal Hospitals Bengaluru, the foremost multi-specialty healthcare provider committed to clinical excellence and patient care, today announced the launch of its 'Lets Together, Beat Tobacco' Campaign on the  occasion of World No Tobacco Day.  This awareness campaign was unveiled by   Ms Vanistha Ashok, fitness expert with an aim to create awareness on the ill effects of tobacco consumption in any form.
In a bid to spread the awareness on preventive care, Manipal Hospitals launched quick evaluation package for lungs at just Rs. 799/-. The package includes chest x – ray, spirometery, GRBS and Pulmonology consultation. The package can be gifted to a smoker in the family to encourage him / her to quit smoking.Manipal Hospitals Bengaluru launched a bouquet of activities under the campaign such as a poster exhibition, literature and brochures to educate the masses, cyclothon for hospital consultants and employees along with special screening packages for the public. Cyclothon for hospital employees will be flagged off from Manipal Hospital premises to CMH Road, Indiranagar and back. The rally will begin at 6.00 am and culminate at 8.00 am on Saturday, June 2, 2018.
Speaking on the occasion Dr. Sudarshan Ballal, Chairman, Manipal Hospitals said, "Today, global statistics show that use of tobacco causes around 6 million deaths a year which is projected to rise to 8 million by 2030 if we don't act fast and take preventive measures. In India, heart blockages or coronary heart disease is among the leading causes of death and contrary to popular belief; it is smoking-caused heart disease that results in more deaths per year than smoking-caused lung cancer. However, smoking is also the single largest preventable cause of heart disease and which is why as a group we are committed to take this initiative to the mass population on educating and enhancing awareness in identifing plausible solutions to eradicate tobacco consumption. With this campaign, Manipal Hospitals is committed to fight this evil and create a healthier, happier India."
Ms Vanistha Ashok, fitness expert said, "   Fitness is something that cannot be attained overnight. It needs lifestyle modification and a strong will to practice healthy habits. Smoking is extremely injurious to our health and can cause irreversible damages to our body. I urge people to stop consuming tobacco is any form before it is too late."
Speaking on the occasion Dr. Ranjan Shetty, Interventional Cardiologist, Manipal Hospitals said, "Smokers are almost twice at the risk of having a heart attack as compared to people who have never smoked.  Quitting smoking has huge benefits and it's never too late to give up. Even smoking a single cigarette increases the risk of heart attack by almost 50 percent. Relatively smoking has much more adverse effects among women. If you are a smoker stop smoking completely and it is the single most important step you can take to protect the health of your heart"
Speaking on the occasion Dr.Somashekhar. S.P, Chairman & HOD Surgical Oncology, Manipal Hospitals, said, "Seventy percent of Indian cancers are caused by modifiable and preventable risk factors (40% tobacco, 20% infection and 10% others.  Approximately 30-60% cancers among males and 10-30% cancers in females are tobacco related. Passive smoking is a major burden in India with 44% occuring at home and 37% at public places. It is well known fact that cigarette smoking increases the risk of lung cancer 10-20 fold. It also causes 14 other types of cancers like oral cavity, stomach, colon, rectum, liver kidney, cervix cancers to name a few. "

Speaking on the occasion Dr. Satyanarayana Mysore, HOD, Pulmonology & Sleep Medicine, Manipal Hospitals said, "Lung diseases caused by smoking include COPD, which includes emphysema and chronic bronchitis. Cigarette smoking causes most cases of lung cancer. If you have asthma, tobacco smoke can trigger an attack or make an attack worse. Smokers are 12 to 13 times more likely to die from COPD than nonsmokers are. Reports reveal that India is the second largest consumer of tobacco with more than one-third of adults (35%) using tobacco in some form or other, of which 21% using smokeless form exclusively."